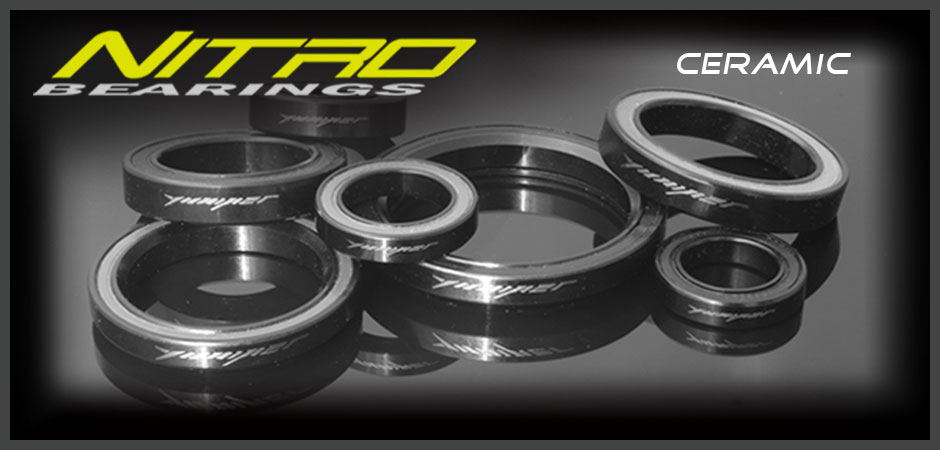 Product description

Bearings are a very small part of your bike, but play one of the biggest roles in terms of its performance. The life expectany of a bicycle component is highly correlated with the life-time of the bearing, which is used in the product. The balls of ceramic ball bearings have a greater hardness than steel balls. This results in a longer lifetime of the bearing. Furthermore, ceramic balls have a smoother surface than steel balls. This results in less friction when the bearing is spinning.
The black surface treatment on the Yuniper NITRO-bearings makes them less prone to rust. Improved seales reduce the probability of water and humidity getting into the bearing. Furthermore, we used a high end grease which protects the inner structure of the bearing and assures a very good lubrication. Internal clearances and accuracy classes are no foreign words to us.

Please inform us, if you wish your components to be equipped with our black Yuniper NITRO-Ceramic bearings.
Our standard bearing sizes are listed here. If you are looking for other bearing dimensions, please appoint the requested dimensions to us.
CERAMIC
Bearing Code
Dimensions in mm
Commonly used for
CB 6802 - 2RS
15 x 24 x 5
Hubs
CB 6803 - 2RS
17 x 26 x 5
Hubs
CB 17287 - 2RS
17 x 28 x 7
Hubs
CB 6902 - 2RS
15 x 28 x 7
Hubs
CB 6805 / 6 - RS
25 x 37 x 6
Bottom Bracket
CB 6805 - 2RS
25 x 37 x 7
Bottom Bracket
CB 6806 - 2RS
30 x 42 x 7
Bottom Bracket
CB ACB 41
30.15 x 41.00 x 45° x 45°
Headset
CB ACB 418 H6.5
30.15 x 41.80 x 6.5 x 45° x 45°
Headset