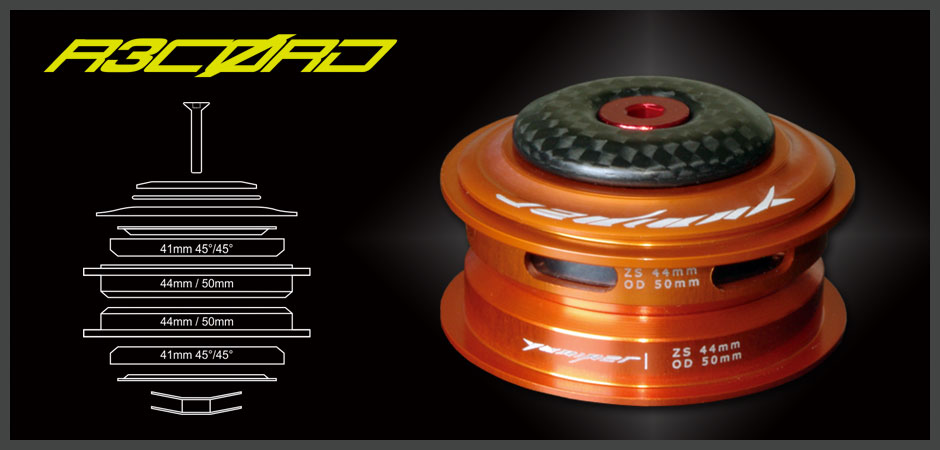 Product description
We were able to significantly lower the weight of Semi-Integrated headsets (made for 44mm inner diameter and 50mm outer diameter headtubes and 1 1/8" steers). The headsets are equipped with two 45°x45° durable bearings with a height of 6.5mm.
The Yuniper R3C0RD hadset has an optimized upper headset cup which has window cut outs to furhter lower the weight.
For those who want the ultimate version: ceramic ball bearings are available. The headsets have leightweight shells and a very light top cones. The top cap is made out of full carbon fibre, but a standard alloy version is available too! Weight starts from 63g.
We have chosen 7075 T6 Material to produce all aluminium parts of the headset.
Product details
| | |
| --- | --- |
| Compatible to: | 44mm/50mm head tube and 1 1/8 steer |
| Weight R3CORD: | 61g with ceramic bearings (excl. Topcap, Screw, Starnut) |
| Weight: | 64g with normal bearings (Excl. Topcap, Screw, Starnut) |
| Weight: | 4g full carbon topcap |
| Weight: | 2g alloy screw (32mm length, black anodization) |
| Weight: | 4g universal starnut (not for carbon fork shafts) |
| Bearing type: | Angular contact bearings |