Product description
Product details
The BB386 standard gains more momentum in the market. This standard is similar to the BB30 standard, but not compatible with BB30 solutuions, as the bearings are positioned differently on the crank axle.
The bearing cups carry bearings of the type: 30 x 42 x 7mm
Hence, the crank axle has a diameter of 30mm and the frame where the system is supposed to be mounted has the traditional BSA-thread.
Several high end crank manufactureres from Germany and Europe in general use this system. FSA uses this concept as well.
Exact alignment of the bearings to the crank axle and several quality control steps during production. Assure a high-performace product.
| | |
| --- | --- |
| BB386 | |
| Quter Code: | Fits to BB386 keys |
| Bearing: | 30 x 42 x 7 |
| Material: | 7075 T6 |
| Weight with normal bearings.: | 79g |
| Weight with ceramic bearings: | 75g |
BB 386 Wrench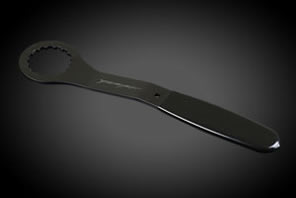 This BB 386 wrench fits to our BB386 bottom brackets and to many other BB386 systems which are mainly produced by european companies. The BB386 wrench does not fit to standard Shimano Hollowtech II systems or SRAM bottom brackets or any other bottom bracket which share their standard.
Weight: 285g